In Justice
Sally runs to playground. Sally swings on swing. A group of schoolyard bullies beats up Sally and steals her lunch money. Sally organizes a team of avenger-nerds, chases down thieves, retrieves lunch money, and is elected class president. Chastened bully ring-leader grows up to write redemptive novel that wins Pulitzer for its realistic portrayal of criminal reform. Sally writes flash fiction, laughing out loud.
Question: Did you assume the bully was a boy?
Treanor Baring
Bayou City Branch, TX
Editor's Note: I'm hoping to be able to publish a chapbook of Flash Fiction October through Pen Women Press. This will be a small, limited project, a small way of getting our members' work in print. In the meantime, I'm posting the accepted flash fiction submissions in the order that I received them. The Poem of the Week feature will return in November, so poets, please keep those submissions coming.
Here's a draft of the cover of the chapbook–I'm working on getting a cost estimate for 100 copies.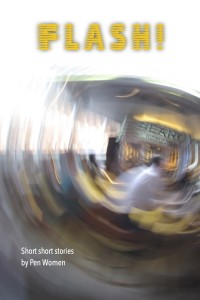 If we can get donations, we can distribute free of cost! The photo on the cover, which I took in St. Pancras train station in London, represents for me what makes flash fiction so appealing. It's a quick spiral to personal moments and insight about people. Keep writing, Pen Women!–Treanor Baring, Poetry Editor, Website Content Editor, NLAPW