This feature, published in The Pen Woman magazine, highlights an artist member and her process. We hope it inspires and informs other artists in their own work. Submissions are welcome from members — please send the article, along with high-resolution JPG images (showing the artist at work, progression of a piece focused on process, and finished work) to Art Editor Lucy Arnold at arteditor@nlapw.org.
---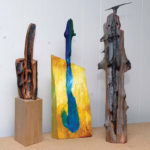 Sandra Eliot, Member-at-Large: Carved-Up Inspiration (Spring 2019)
Sandra Eliot assembles sculptures from found objects and fabricated pieces. She's fascinated by wood that's been weathered, and uses the other materials to enhance its meaning.
---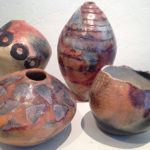 Melissa Woodburn, Golden Gate-Marin Branch: A Day at the Beach (Winter 2019)
Melissa Woodburn uses the beach as part of her studio. After creating clay pots and bisque-firing them in an electric kiln, it's off to the beach to pit-fire them.
---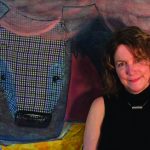 Linda Mitchell, Atlanta Branch: Narrative Paintings on Fabric (Spring 2017)
Linda Mitchell creates beautiful, sensitive, narrative paintings that have voice and presence. Her work is unique and tells stories through patterns and colors.
---