This week, Marsha Perlman shares how natural beauty inspires her creativity and her process.
---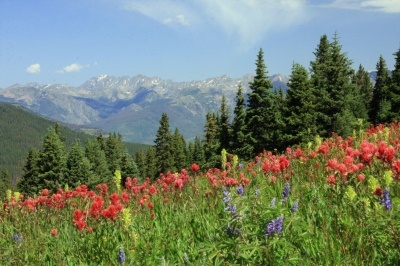 My inspiration for writing comes from the vast natural environment that surrounds me. My work space is the outdoors, and I am an "outdoors person."
Living part of the year in the foothills of the Rocky Mountains assures me no shortage of poetry subjects. My backpack carries a notebook, pencils, a ruler, a small shovel, a covered plastic container, a canteen, a snack, a rain jacket and a camera.
I choose a topic and spend blocks of time observing and taking notes as I move around the area by bike and foot. Or I choose a destination that is more flexible and allows for returning often to view changes that occur.
When I take many notes in the field, there is occasionally the problem of not recalling the sensory data. Therefore I immediately describe the words that I can't retrace later, such as bird songs. Before I leave my subject, I scan my notes to be certain I have all the information I need. Sometimes, I take a few photos.
Once at home I sit at my desk and in pencil, write the first draft of my new poem. I read it aloud several times for obvious changes in grammar, spelling, punctuation or repetitive words. Printing is next and then I set the work aside for a week.
When I am ready to revise, I ask another person to read the poem aloud. Then I reread and rethink the text several times again, each time with a fresh eye for accepting, eliminating or adding another new word choice, better sentence structure or organization.
I often return to the location of the poem, if it is available and ask myself if I need to rework any lines. If so, I repeat the process. I want to be certain all my ideas are clear to the reader.
---
Marsha J. Perlman writes poetry and non-fiction. Her environmental poetry book, SPIRIT LIFE, received 1st Place at NLAPW's Florida State Conference. TASTE LIFE TWICE, a memoir of her evolution from reticent and acquiescent to assertive and empowered, continues to receive excellent reviews. Her work appears in Until They Have Faces, Unraveling Mysteries, and Women's Voices in the 21st C. As a photojournalist, she received awards from Colorado Press Women and has also co-produced a Latin American FM program. She participated in ArtPoems as an active member of Southwest Florida Branch NLAPW. Learn more about her at www.marshajperlman.com.
"Colorado Mountains" by Liz Noffsinger / FreeDigitalPhotos.net
OUR GUEST BLOGGING SERIES WILL END ON OCTOBER 13th. Submissions for the series are now closed. We thank all Pen Women who submitted work for our Creative Inspirational Wisdom and It's A Creative Business guest blogger series. We look forward to giving an update on the status of Creative Genius at Work, an anthology that will include posts from these two series, soon.