This week, Sheila Firestone, Composer, discusses how her grandchildren provide inspiration for her creativity.
---
From the days of their births, to the daily conversations, I do not know exactly when or how the new composition ideas will arrive, but they do. Staring at Lital's birth picture, in the Sylvester Cancer Center doctors' waiting room, the words and melody for "I've Stamped your Picture on my Heart," arrives. This song later becomes part of a curriculum and series of songs, a Songs for a New Day program called Sing and Think.
From photos of little girls growing up in Northern, Israel, to "Welcome Little Wonder" (a song for Emily), "Berceuse" for Noah, and lullabies for Maya and Allie, six grandchildren have become my sources of inspiration. The oldest, now 22, is on a fellowship, in another country. Three others recently had their first work experiences. Their challenges often become my musical challenges, works derived from the joy of savoring who they are, what they face, their delights and how each meets and greets the day. A recent event in Charlottesville, Virginia, where the oldest received her master's degree and taught, another's struggles to achieve excellence on the job, other internships, and gap years with studies abroad have all become part of my musical collections.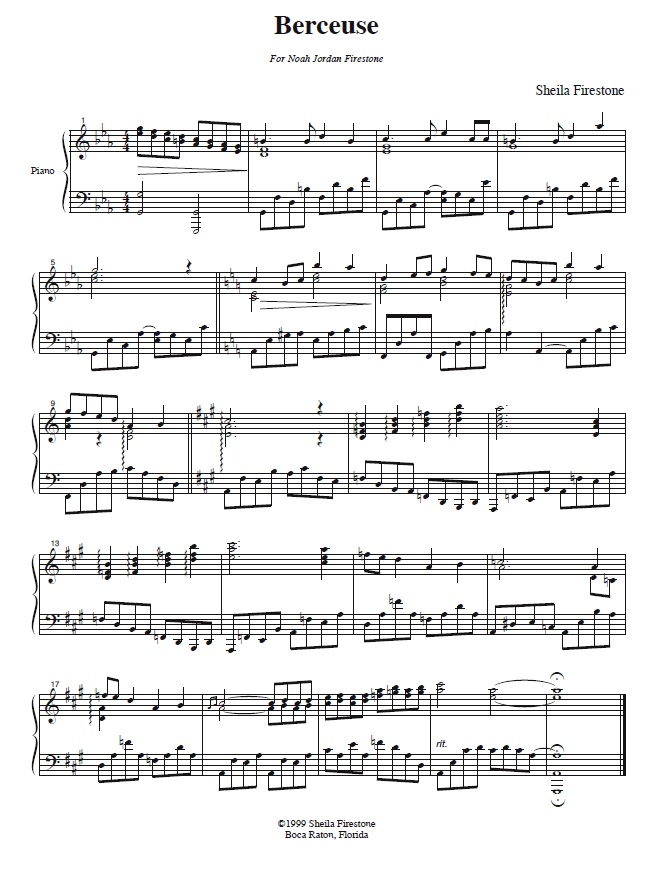 Works are begun by nothing more than a touch, a photo, a Facebook moment, a tug of the heart, a tear, a smile, a skip and a Hi, Grandma. How are you? text message. I hear this story repeated by many grandparents. We tell the stories, and paint their moments in our works.  We are filled with the joy of expectation and the hope that our grandchildren's lives will impact the world.
Lital's third birthday present brings "The Peace Patch" dance suite and curriculum. The premiere was planned for our visit to the Israeli "Gan" preschool. "The Grandchildren's Suite," piano anthology, commemorates the budding interests of the six, as does the arrival of "The Cat Sarah," who plays Kitten on the Keys quite well.
"Miriam and the Women of the Desert," a musical/operetta, includes several lullabies originally written for the grandchildren. "Peace Child," was created for Allie's birth. I use it in the Miriam work to depict Mother Yocheved singing her hopes to the baby Moses. Batya, his Egyptian mother, sings "In the Cradle of Mankind." The opening Prologue, begins with the search for God. It calls chorally on a number of modern Hebrew names given to God. It was inspired by a small child's private conversation with God outside. An internship or a first job with its challenges now becomes a sonata or symphony.
These are my tributes to youth and my hopes for their success. I am grateful that the ideas translate into musical ideas to play with when I am not with these young people as they continue on their paths. So thank you, dear Grandchildren, for a lifetime of inspiration. I am always with you, continuing to be filled with wonder by your actions. May you always find joy as you use your energies to fulfill your dreams.
---
Sheila Meyerowitz – Firestone was born in the Bronx and has been a student of musical composition since 1987.  She retired after twenty-five years of teaching Communications to gifted elementary students in North Miami Beach, FL.  Firestone studied in the studios of Joseph Dillon Ford, and with Dr. Tom McKinley at Lynn University Conservatory of Music and Dr. Keith Paulson Thorpe. In 2016, Sheila won the NLAPW, 2nd Place, Vinnie Ream Award in Music for Waters of Transformation. She is President of the Boca Raton Branch NLAPW. Learn more about her at her web site, sheilafirestone.com.   
"Berceuse" sheet music provided by S. Firestone.
OUR GUEST BLOGGING SERIES WILL END ON OCTOBER 13th. Submissions for the series are now closed. We thank all Pen Women who submitted work for our Creative Inspirational Wisdom and It's A Creative Business guest blogger series. We look forward to giving an update on the status of Creative Genius at Work, an anthology that will include posts from these two series, soon.