This week, Lois Batchelor Howard personifies poetic inspiration in a rural location.
---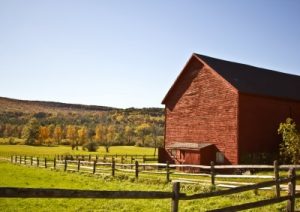 I am blessed or cursed.  I don't know which.  Perhaps both.  If I describe my living on a farm, that will possibly explain why or how I write.  I'll give it a go.
Every time I look behind the house or the barn, for that matter, I see them there or I see them coming.  Actually, they've been coming for a long time.  They're odd things: sometimes strange, always different, fascinating somehow. They're always there, it seems. Grandma Bryce might have called them "wonderful pains," like she described the aches in her legs that would not go away.
They have me caught; I know that.
When I've had the courage, I've asked my neighbors. Funny… they don't see them, and they give me looks like I give a field of corn that for no reason I can figure out has suddenly stopped growing. Or is it the look I feel when it's harvest time and the combine has broken down? Maybe it's more like I'm asking 'em to an opera and they know that I know, more than the smell of bundled hay in the early dew of dawn, that they love country music. Whatever. I can't pinpoint the look, but I've felt it before; it's not a stranger to me. It's kind of "puttin' up with," and it unsettles me some, but not enough to stop seeing those things.
They sit atop the trees on the horizon by Nelson Rathbun's place, and they often shoot right out of the setting sun or the rising sun. I see lots of both, but there are more chores in the mornings.  They ride the backs of cows. Sometimes they get the chickens clucking and squawking, and the hogs squalling and the dogs barking, runnin' around in frenzied circles, the horses bolting their heads sideways, restlessly shifting their weight back and forth in closed stalls.
Yes, these things have found me. They are powerful things, I tell you. I know I said it before, but it seems they are always here. Sometimes they're in my boots when I go to put 'em on in the morning or they stick to my high-tops after a heavy rain, when I've had to gluck trough-deep in mud.  At times, they even leap out in the black of night. They're here, all right, and—how does the expression go?  They must have seen me coming!  Or I, them.
I could use a lot of fancy words, maybe. Straight of it is, we get along. Oh, sometimes I put 'em off, but mostly I grin and welcome them in. You don't get that much company with all this land around and the houses so far apart. I don't even always treat them to electricity; sometimes I light an old oil lamp and over the oilcloth table cover, shadows visiting on the walls, we sit down together. I rustle up some hot tea and biscuits and blank papers, set the ink jar down, and dip my quill into the ink that somehow reminds me of the clear spring water trickling down near the pond at the top of the hill. But I'm getting' off the subject, in a way, and I'm repeatin' myself. I tend to do that. My listeners keep reminding me that I do, but you do what ya gotta do.
"Friend-Things," I say, "What poems do you have for me today?" and as they keep prattling on, which is our way when we're together, I write. Oh, sometimes we take a break and check the larder or the root cellar. They tell me that's why they come, and sometimes we gaze out over the acres and know there's a lot of promise in that old Spring earth, buds of words and greens sproutin' up all over… Why, those things now, out there again, dancin', like they own the place.
They've been lookin' over my shoulder, and they say they like readin', that I draw inspiration from livin' here on the farm and listenin' to them. Gotta' give credit where credit is due.
---
Like many of you, Lois Batchelor Howard likes to write. She admits she is possessed! She graduated from the University of Michigan in Music (pipe organ) and through years of rich musical experiences, the music of words became her favorite music. Gratefully, she is a much-published and award-winning author, and she loves being a Pen Woman.  A longtime member of La Jolla Branch, she served as its president for five years.  After moving to Desert Hot Springs, Lois now enjoys being a member of the Palm Springs Branch NLAPW. 
"Working Barn" by Maggie Smith / FreeDigitalPhotos.net
OUR GUEST BLOGGING SERIES IS ENDING SOON: Pen Women are invited to submit guest posts or artwork for our two series, Creative Inspirational Wisdom and It's A Creative Business, up until Thursday, August 31st, 2017. Please visit this link for more details. We look forward to reading your material!