---
The Vinnie Ream Medal Competition

(Now closed)
To honor the legacy of Vinnie Ream, harp pendants in sterling silver with zirconia accents will be awarded to each 1st place winner in Art, Letters, Music and Multi-Media at the Vinnie Ream Banquet at the 2018 Biennial. The goal of the Medal competition is to encourage participants to be inspired by the example of Vinnie Ream, and to strive, as she did, to elevate their work to the highest level. Vinnie Ream Contest announcement.pdf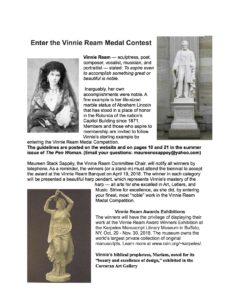 General Guidelines:
To be eligible for a medal, a participant must either be a member of the League or in the process of becoming a member.
Materials entered in previous Vinnie Ream competitions will not be accepted.
The competition will be held in the odd years with the medals awarded in the even years, at the biennials.
There will be four categories: Art, Letters, Music, and Multi-Media. The Art, Letters, and Music Chairs and their committees will supply the specific criteria for their categories (Multi-Media falls under Music).
Outside judges will select a first, second, and third place winner and, at their discretion, up to three honorable mentions for each category.
Each first-place winner (or a designated representative) must attend the Biennial to receive the award.
The entry fee for the competition is $50.00 for each submission. A participant may submit for any category in which she is a qualified member.
Entries may be new or created at any time in the past.
Entrants retain all rights to their work.
Entries will be accepted from August 21 – September 30, 2017.  The postmark deadline for entries is September 30, 2017 October 14, 2017.
Winners will be notified by the end of November 2017 (the announcement will be posted on the website in November, and in the winter issue of the magazine).
A one-page artist statement (not to exceed 250 words) must accompany each entry in response to the following quotation from Vinnie Ream: "The Divine call to art, like morning light, comes not at the bidding of the suppliant — knowledge of art, like love, comes not by appointment, but springs forth as freely as a mountain spring . . . Let us, then select the beautiful and try to represent it truthfully. To take the color from the earth, or clay from the bank — to take that which is nothing and create something from it, is an almost Divine attempt, if our subject [is] worth . . . "
Your artist's statement should explain how your work fulfills Vinnie Ream's definition of the "Divine call to art."
The criteria have been established by the Art, Letters, and Music Chairs and their committees and approved by the Vinnie Ream Committee.