Be inspired! Spark your creativity and enjoy Washington, D.C., and the company of fellow Pen Women.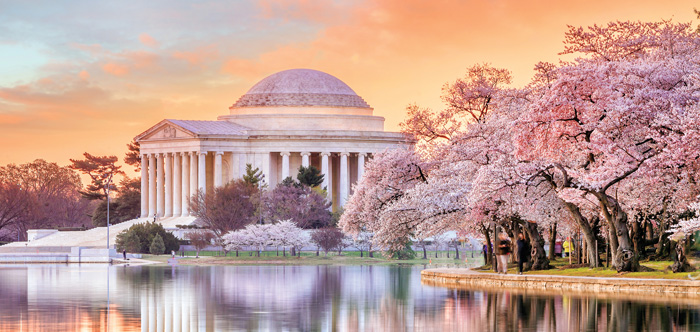 Three classes available:
May 14-21: Portrait Sketching with Sandy Huff
May 21-28: Exploring the Great Gardens of D.C. with Sandy Huff and Sally Mathews
May 28 – June 4: Hidden Meanings in Architecture with Sally Mathews
Cost: $140 per academy
Optional stay at Pen Arts per person: $65 per night for Pen Women, $75 general public
Download the registration form and the instruction/detail sheet.
---
Portrait Sketching
---
Arrive Tuesday, May 14; depart Tuesday, May 21
What can you do with a No. 2? Always wished you could sketch your friends and family but just can't get a likeness? Sandy Huff (arts and letters) will show you an illustrator's technique that incorporates photos to get the proportions just right.
We'll start by doing in-depth analysis of individual facial features from an artist's viewpoint. We'll explore different techniques and media, ranging from a lowly No. 2 pencil to pastels to Prismacolor on toned paper. Materials for two portraits/studies a day will be supplied. Bring along your own supplies if you have them.
Formal workshops will run Wednesday, May 15, to Sunday, May 19, with work on your own Monday. (If staying at Pen Arts, please vacate your room by 11 a.m. Tuesday, May 21, or sign up for the next class.)


---
Exploring the Great Gardens of Washington, D.C.
---
Arrive Tuesday, May 21; depart Tuesday, May 28
Spring and early summer in our nation's capital is beautiful. Whether you're a Master Gardener, plein-air painter, photographer, or just an admirer of pretty posies, this five-day tour will delight you.
Every day, our group will see something different. Below is a sample schedule, which may change depending on conditions. Admission prices are in italics. At most sites, a tour of the historic house is included — you'll be steeped in history as well as gardens!
Tuesday: If staying at Pen Arts, plan to arrive in the afternoon, settle into your room, and meet your roommate if you have one. Then explore opera singer Sarah Adams Whittemore's 1890 mansion. Robert Todd Lincoln lived here and brought his widowed mother to stay here too. Orientation and introductions in the evening.
Wednesday, tour day 1: We'll start with a small but lovely private garden just blocks from the Capitol building ($5 donation). Then we'll walk or taxi to the U.S. Botanic Garden (free). Begun in 1820, different rooms show rain forest, desert, and temperate plants. The orchid room alone is worth the trip.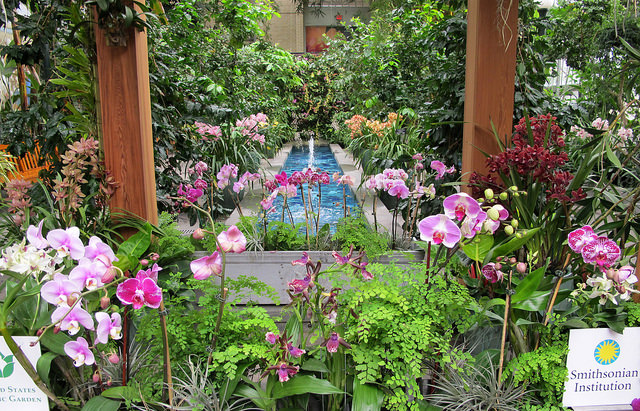 Lunch will be your choice of dishes from different cultures at the cafeteria in the nearby Museum of the American Indian. After lunch, you can stroll the Mall and visit the other gardens of the Smithsonian. An evening program may be "tips on taking photos of plants."
Thursday, tour day 2: Another gem. Hillwood House and Museum ($12 – $15) features lovely gardens, spotted with quirky statues given to heiress Marjorie Merriweather Post by her friends. Your ticket will include a "how we do it" tour by a staff horticulturalist, plus a tour of Ms. Post's art-filled home. After lunch at the Hillwood café (on your own), you have free time to explore all 13 acres.
Friday, tour day 3: Morning may be visiting the new rooftop garden of the Washington D.C. Extension Service. After lunch, we'll visit Tudor Estate ($8-$10), built by George Washington's granddaughter, and lived in for six generations of history collectors. See what happens when boxwood isn't pruned.
Saturday, tour day 4: We'll start with the famous grounds of Dumbarton Oaks ($8-$10). Your ticket also includes the world-famous collection of Mayan artifacts inside the mansion.
Sunday, tour day 5: We'll visit the grounds of two magnificent churches. One is the Franciscan Monastery — one thousand roses, a grotto, and a sense of peace. The interior of the church is fabulous. Next is the National Cathedral (free with church service, $6 for a tour) and a visit to a reproduction of an ancient monastery garden. The Cathedral is not only huge, but famous for its pop art gargoyles — watch for Darth Vader.
We can arrange our schedule to attend a church service if you wish. The 11:15 service features organ and full choir. Tours are 1-2:30 p.m. The grounds of the Cathedral were planned by landscape architect Frederick Law Olmsted, Jr., and modeled on the walled grounds of medieval cathedrals.
Monday: on your own. Our group travels are over. But if you still want more greenery, there are more gardens you can add:
Brookside gardens — it's a short ride on the Metro subway (an interesting, traffic-free way to travel for under $4 each way), then a 1-mile walk to this beautiful site. Or you can take a taxi directly from Pen Arts (about $35 each way.) There is always something blooming. Watch the turtles swim under the Japanese tea house.
We also recommend: George Washington's home at Mount Vernon, Historic Alexandria house and gardens, Constitution Gardens, Kenilworth Aquatic Gardens, Takoma Park private gardens, or a garden club meeting.
---
Hidden Meanings in Architecture
---
Arrive Tuesday, May 28; depart Tuesday, June 4
From Ancient Egypt to today's buildings, architecture reveals much about the culture of its time. Learn to identify and imagine the drives behind cultures' constructions. Five days of talks and pictures, easy activities, and finding examples of just about all eras of architecture (in the buff and in paintings in museums), all under our very noses in Washington, D.C. Arrive Tuesday May 28.
In this five
-day
morning and afternoon architectural exploration, we get together to look into the design evidence that what we construct reveals the underlying drives of the cultures of Western civilization. We begin with the pyramids of Egypt,
forge ahead to today's wonders,
and end with an example of architectural clues to transformation, from Aztec pyramids to church interiors in a small town in Mexico.
Day 1: After recalling the 7 Wonders of the Ancient World, we'll make organization-of-power connections between Egypt, Greece, and Rome, and follow up with the Hagia Sophia (Turkey) and connections to Charlemagne's Chapel in Aachen, Germany.
Day 2: (pivotal day): Despite the struggle between government and church power drives, the Abbot Suger redesigns the Abbey of Saint Denis (outside Paris) into what becomes Gothic architecture.
We dash into both Italian and Northern Renaissance and peek into Rybczynski's book Home for insight into our "daily" architecture structuring.
Day 3: After a look into a few great "ruler palaces" (Versailles, Francis I's Chateaux along the Loire, and others), we head for our Big Day at the National Gallery of Art for architectural examples in the building itself and in the pictures found there.
Day: A morning look into U.S. architectural history prepares us for an afternoon excursion to the U.S. Capitol Building and the Supreme Court, as well as a stroll into the area of homes around there.
Day 5: As this is Sunday, we can, for a half hour, look at an Old Testament connection for a modern day view of "home" before going to the National Cathedral to be in a Gothic-inspired space. After lunch, we wrap up, in one hour, with the example of a transformation experience shown through architecture. And we share our bucket-list-of-one what building in the world we might want to see.
We will leave the Pen Arts building with a
reframed view of the history of architecture.
---