Every issue of The Pen Woman magazine features a "Purpose-Driven Pen Woman," a member whose work is having an impact on the League and beyond. Our national president makes the selection for this honor, and the selection is a surprise, including to the recipient, until the magazine comes out!
---
Purpose-Driven Pen Woman:  Patricia Setser, Jacksonville Branch, FL Art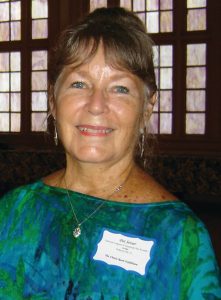 Possessing the innate creative thoughts that envisioned the Vinnie Ream Exhibit at Karpeles Manuscript Museum in Jacksonville, Florida, Patricia "Pat" Setser set into motion a monumental idea for the League. She conceived the idea, nurtured it, and saw it to fruition with the opening of the exhibit on September 9, 2016. The event included stunningly displayed Pen Women art from the 2016 Biennial. Every Pen Woman in attendance was especially proud to be called a Pen Woman that evening, and it was because of the dedication and purpose with which, like an architect conceives a blueprint, Pat Setser launched this distinguished event with the Jacksonville Branch at her side.