(See more news: NLAPW National Level News and News from Pen Women.)
---
In The Pen Woman, Winter 2019
---
Diablo/Alameda Artists Honored for Achievements
At the invitation of Natica Angilly, vice president of the Diablo/Alameda Branch, members attended the spectacular Palace of the Legion of Honor in San Francisco in September for the Dance Poetry Festival.
Margaret Davis, Pat Doyne, Jo Ann Frisch, Elizabeth Hack, Ann Maloney-Mason, and Charlotte Severin were treated to an extravaganza of dance and poetry.
The program was presented by Artists Embassy International, an arts organization dedicated to furthering peace and understanding through the universal language of the arts. Angilly and her husband, Richard, hosted the program, celebrating its 25th year.
During the event, Hack and Severin received Artists Embassy International's 2018 Visual Arts awards.
Hack was honored for her work as editor of the journal San Francisco Peace and Hope: Light Up the Sky and for her many achievements in writing and visual arts. Severin was honored for her award from the American Association of University Women (AAUW). Her painting, "Hollyhocks in My Garden," was included in a set of note cards, which were sent to AAUW's 84,000 members.
---
Chevy Chase Hosts Event with Three Guest Branches
Chevy Chase Pen Women recently hosted national President Evelyn Wofford at an event that included guests from three other branches: Bethesda, Alexandria, and District of Columbia.
President Wofford spoke briefly about the plans and goals of the new administration, as well as new programs happening at Pen Arts. The Pen Women in attendance found her positive and open to new ideas to bring the League into the 21st century.
The Chevy Chase Branch is also focused on taking its membership into the 21st century by elevating and encouraging women who flourish in various areas of the arts. Chevy Chase is also encouraging unity among the local branches.
The program for the event was provided by District of Columbia Branch President Grace Reid on the piano and D.C. Branch member Nancy Stanly on the flute, who performed several pieces written by composer An-Ming Wang from the Bethesda Branch.
---
Golden Gate-Marin Chooses Art Scholarship Winners
By Catherine Bohrman
The Golden Gate-Marin Branch had a growing and thriving year in 2018. Although our members have primarily been visual artists in Marin, San Francisco and Sonoma counties, our branch has grown with five new members — two in art, two in letters, and another in music and letters.
We award an annual scholarship to a deserving female Marin high school senior who plans to further her education in the visual arts at a four-year college. This year, Courtney Sharps of Marin Catholic School received the $500 scholarship. She is a ceramics student who participates in advance-placement studio classes and is one of only a few to be given her own studio space at the school. Courtney will attend Syracuse University, where she plans to major in sculpture.
We also awarded Sophie Levin of Novato High School the Idell Weiss Memorial Award. She received a $150 gift certificate to use for art supplies at college. Sophie will be attending the Rhode Island School of Design. She has challenged herself to try multiple mediums, but focused on drawing, painting, and illustration for her submission.
The branch exhibited with the NorCal Pen Women this past winter at the John O'Lague Galleria in Hayward's City Hall, in Hayward, at the Tiburon Town Hall in Tiburon, and at The Redwoods in Mill Valley, California. We are exhibiting once again with NorCal in Hayward this winter.
This year, our past President Lucy Arnold attended the Biennial in Iowa and came back very inspired by her fellow Pen Women. She co-chaired the Presidents Panel at the Biennial and received an Outstanding Pen Woman Award from former national President Virginia Campbell.
Our monthly meetings are not just informative. We treasure the friendship, support, and networking they provide. Our horizons widen as we welcome members in music and letters and discover new inspiration and collaborations.
---
All Cities Hosts Art Exhibit and Poetry Reading
The All Cities Branch Art Exhibit and Poetry Reading took place at Molloy College in New York on Sept. 22.
Pen Women Carolyn DeSoucey, Eleanore O'Sullivan, Dina Fine, and Lisa Hermanson featured their work; All Cities President Denise Kolanovic read poetry from the soon-to-be-published chapbook "Magnetized by Black Irises"; and Pen Woman Anna DiBella read from her new book. Other participants included the invited writer-in-residence from Molloy College, Barbara Novack.
---
Sarasota Showcases Members' Work
The Venice Art Center was the latest venue to showcase the work of the Sarasota Branch. From Nov. 16 to Dec. 14, 20 art members filled the walls with 57 works of art. One of the works was an installation — a "first" for the branch's exhibits — by new member Miriam Cassell.
Letters and music members joined in the exhibit with their books and CDs on display. Opening night was a true gala affair. Carol Doenecke, art chair and treasurer, coordinated the program.
---
In The Pen Woman, Fall 2018
---
Pensacola Celebrates 75th Anniversary with Banquet, Show
By Karen Morris, Branch Secretary
A gala banquet highlighted the Pensacola (Florida) Branch's 75th anniversary year. Hosted in a bayside banquet hall beautifully decorated by members (with inspirations created by Nancy Nesvik, who also designed the logo), the event featured live music, a display of collaborative art and poetry, presentations of some of the collaborative works, and former National Art Chair Pat Setser as a special guest.
"Painted Sounds" (a concept inspired by the Atlanta Branch's collaborative of this name) was the theme of the evening, as well as of our latest show at Artel Gallery. The show began when members teamed up earlier in the year to create art and writing inspired by one another. The presentations at the banquet consisted of collaborators Barbara Dunham and Patricia Gould-Black; Kathy Breazeale and Christine Salomé, Carol Loethen, and Jane Lies; and Nancy Nesvik and Diana Obe.
Several speakers offered their perspectives. Longtime (now retired) membership chair Autry Dye relayed some thoughts, Mara Viksnins gave an enthusiastic message as the branch president, and Pat Setser offered congratulatory and inspiring remarks. A video titled "Then and Now," prepared by Vice President Anne Baehr, showed highlights from the recent Des Moines Biennial and the "Painted Sounds" show at Artel.
Many members labored long hours to make this event possible, and their efforts gave our branch an unforgettable evening.
---
Portland Awards Scholarship to High School Graduate
By Anne Price Yates
This year the recipient of the Portland Branch, Oregon, $200 scholarship was Anna Nixon, a graduating senior at Westview High School. She will be going to the University of Pennsylvania next year, majoring in computer science, and has worked out special arrangements with the university to continue ceramics work, which she is passionate about. She also hopes to pursue a minor in fine arts.
Nixon has been a programmer on various robotics teams and has even organized a program to help students, especially young women, with science, technology, engineering, and math (STEM).
She stumbled upon ceramics almost by chance in her freshman year and fell in love with it. She has taken four years of ceramics classes under Maureen Merritt, who has helped her learn a wide range of techniques.
"I don't think I can properly put into words how grateful and honored I am to receive this award," Nixon wrote.
The branch is delighted that Anna Nixon is our scholarship recipient this year and wishes her the very best in her studies and career.
---
Santa Clara and SASCC Promote, Encourage Young Artists
By Patricia Dennis and Luanna Leisure
The Saratoga Area Senior Coordinating Council's (SASCC) Tylor Taylor, working with the Santa Clara County Branch, provided and awarded a $1,500 scholarship to writer Micaela Daney. She is graduating from Prospect High School with honors and has been accepted to UC Santa Cruz. The award was in honor of Louise Webb's memoir class (see related story, pg. 20), which takes place twice a month at the senior center. The branch was honored and pleased to work with Taylor in a coordinated effort of supporting these young women as they pursue their careers.
In addition, the branch received a generous donation again from longtime member Felicia Pollack's husband in her memory, as well as the Richard Rico Martin Memorial fund from Dorothy Fini.
The branch appreciates all other donations that helped support this cause. These additional donations allowed us to give two awards each in the category of letters and art.
In addition to SASCC award-winner Micaela Daney, the 2018 award winners were: letters, Ashley Torres; art, Selena Zhang (Felicia Pollack award) and Hannah Arelano; and music, Mona Reese. The scholarship committee consisted of Luanna Leisure, letters (chair); Patricia Dennis, art (co-chair), and Nancy Bloomer Deussen, music.
---
In The Pen Woman, Summer 2018
---
Modesto Celebrates 'Pen Women Presents!'
By Nancy Haskett, Modesto Branch President
The Modesto Branch, California, was featured in the art and poetry exhibition "Pen Women Presents!" that took place Feb. 1 to March 27 at Modesto's Carolyn Huff Photography Studio and Gallery. The exhibit included eight artists and three poets who displayed their works, including paintings, framed poetry, and note cards. In addition, seven branch members read prose and poetry aloud during open receptions on both Feb. 15 and March 15, as part of downtown Modesto's "Art Walk" on the third Thursday of each month.
Featured artists were Chella Gonsalves, Carol David, Linda Prather, Sally Ruddy, Linda Sawyer, Jude Slack, Henrietta Sparkman, and Ann Wiliams-Bailey. Branch members with poetry on display were Nancy Haskett, Louise Kantro, and V.J. Vogelzang. Jill Adler, Lynn Hansen, Nancy Haskett, Louise Kantro, Linda Prather, Ann Williams-Bailey, and V.J. Vogelzang did readings.
---
Palm Springs Member Adds Music Category
Lois Batchelor Howard, a longtime letters member, is excited to now also be a new music member. She was active for many years in the La Jolla Branch and, after moving to Desert Hot Springs, she is a proud member of the Palm Springs Branch.
For music membership, three of her performed compositions were sent to National Music Chair Marcia Foster Dunscomb: "I Sought The Lord," for soprano, baritone, and organ; a song, "To Mother"; and a children's musical, "Circles."
Now that she has retired, she has more time to dedicate to composing and writing.
---
Pensacola Honored for Highest Membership Growth
By Mara Viksnins, Pensacola Branch President
At the Des Moines Biennial, the Pensacola Branch, Florida, was recognized for having the highest growth in membership for 2017-2018, and was honored to have its name affixed on a beautiful plaque presented by Virginia Franklin Campbell, NLAPW president, 2016-2018. The plaque will be displayed at Pen Arts in Washington, D.C.
We deeply appreciate this honor, which reinforces our goal of spreading the word about NLAPW, its meaningful history, and its vitality and sustainability for women in the creative arts.
The 49th Biennial was a wonderful experience for our branch's Pen Women as we witnessed firsthand the incredible talent through the demonstrations, literary readings, musical presentations, and art works on display. The personal stories of triumphs over illness and addiction were especially moving and inspiring.
Laura Walth and her committees are to be commended for their organizational skills and awesome programming. Virginia Franklin Campbell and the board have put their hearts and souls into making this historical organization come to life.
We wish the new President Evelyn Wofford and her new board lots of success, and we look forward to the next Biennial in 2020.
---
Sarasota Awards Scholarships to High School Seniors
By Barbara Jendrysik
The Sarasota Branch, Florida, presented awards to high school seniors from Sarasota and Manatee schools in March at its annual Awards Luncheon. These awards, based on competitions organized by the branch, are given to seniors to encourage their education and interest in the arts. The students displayed their award-winning art work, read their compositions, and performed music at the luncheon.
The Sarasota Branch raised funds through member donations, a silent auction, and monthly meeting raffles.
The Betty Altman Art Awards were funded by the David Altman Foundation in memory of branch member Betty Altman. Sylvia Price funded the Dr. Sylvia Anderson Price Writing Award in memory of her late husband.
Additional donors included Publix Supermarkets, WastePro USA, ABC Books 4 Children and Adults, and the Duvall Family Studies Initiative.
Branch members who chaired the event were Amy A. Elder and Sylvia Price (letters), Alice Moerk (music), and Audre Marans and Barbara Jendrysik (art).
Click on photos below to read the captions, or click on the top-left image to scroll through the entire gallery.
---
Cape Cod Explores Connection Between Art and Science
By Kathryn Kleekamp, Cape Cod Branch Secretary
The Cape Cod Branch presented "Art and Science — More than Meets the Eye" as part of ARTWEEK Massachusetts 2018. The speaking event on May 2 and the two-week art exhibition by Pen Women took place at the Cultural Center of Cape Cod in South Yarmouth.
Cape Cod is known as a premiere spot for scientific exploration. The Marine Biological Laboratory (MBL) and the Woods Hole Oceanographic Institute are located here. Cape Cod is also a mecca for thousands of artists who live here or visit annually seeking inspiration for their work.
While many consider art and science worlds apart, those working in both fields know the similarities far outweigh the stereotypical differences. Both require curiosity, careful observation, inspiration, discipline, passion, and commitment. When the layperson cannot understand technical jargon, the artist makes the concept more accessible.
Jessica Mark Welch, PhD, an assistant scientist at MBL, was one of three guest speakers. She showed her striking fluorescent microscopic images of bacteria organisms in the mouth.
Dr. Bob Reece, who has published two works of fiction based on nonfiction, shared his love of writing and described how a medical doctor finds a rich source of stories from years of working with patients. Dr. Bob Ryder, a retired orthodontist, talked about the golden mean and its importance in measurements both in his dental work and his work as an instructor of sculpture.
Dr. Reece summarized the meeting, saying, "You go to school to learn how to do something to make a living. The arts make living worthwhile."
---
Central Ohio Presents 'Seasons of Our Lives'
The Central Ohio Branch is a diverse group of professional writers, artists, musicians, and allied artists who come together to network and participate in programming that expands their horizons. They have combined some of their best work for a gallery experience that showcases the wide variety of talent in the organization as it invites visitors to engage with "Seasons of Our Lives."
The show, designed to respond to the theme, "Seasons of Our Lives," includes collaborations among members as well as individual works of fine art and composition. The theme required participants to respond to the question of what life season they are in or what pivotal time of life inspired the work.
Viewers are encouraged to examine their own "seasons of life" as they experience the exhibition, which includes paintings, sculptures, and textiles, along with literary and musical compositions.
The show began at The Works in Newark, Ohio, April 13 through July 6 and continues at the Carnegie Gallery of the Columbus Main Library in Columbus July 11 through Aug. 24.
---
Boca Raton Awards Four Art Scholarships
Adapted from an article written by Pen Woman Meryl Davids and reprinted with permission from BocaNewsNow.com
The Boca Raton Pen Women recently awarded four scholarships totaling $4,200 to college students studying different areas of the arts: letters, music/dance, and visual arts.
Darah Abrams, who attends the Dreyfoos School of the Arts, received a $1,000 scholarship to pursue her studies in choreography. Abrams appeared in numerous shows at Dreyfoos and also at the Lake Worth Playhouse. She recently danced in, and was associate choreographer for, the show "Kiss Me Kate" at her school. And, she's a brand new Pen Women student member!
Noelle J. Putnik, a student at Florida Atlantic University, received $1,200 to study the visual arts. Putnik is the daughter of Boca Pen Woman Michelle Putnik, who is a writer. (Noelle actually illustrated Michelle's award-winning book, "Dobin.") This art award is named for the late Dori Popoenoe, a longtime artist and member of Boca Pen Women who, with her husband, left money to the group to establish a trust for art studies.
Caitlin Lee Nobile received the other art award. Nobile received her bachelor's of fine art degree from Florida Atlantic University in December, and will use her $1,000 scholarship to pursue a master's in fine arts from the University of South Florida in Tampa starting this fall. She also recently applied for a NLAPW student membership.
The fourth scholarship was awarded to Alexandra Monte, who also won one of the three scholarships awarded by Boca Pen Women last year. Her $1,000 prize will enable her to continue her studies in creative writing. Monte attends Franklin & Marshall College in Pennsylvania, and is currently working on a historical fiction novel that takes place in 15th-century France.
Monte's award was presented at the March business meeting and luncheon of Boca Pen Women while she was on spring break. The other three awards were presented at the lunch meeting of the Boca Raton Branch on April 19.
---
Connecticut Pioneer Showcases Triple Threat
The Connecticut Pioneer Branch recently treated the public to works by its art, letters, and music members at an event titled "Spring Inspirations." Framed art works in a variety of media, as well as poetry, adorned the walls of the Gertrude White Gallery of the Greenwich YWCA May 2-31.
The reception, which took place Friday evening on May 4, featured musical performances, poetry and prose readings, and the presentation of Junior Awards to three talented young women from Greenwich High School: writer Monique Nikolov, artist Ella Fitzgerald, and composer Jenna Handali. Branch President Thalia Cokkinos served as master of ceremonies and led the program with an impromptu piece on the harp.
Click on the gallery photos below to read captions, or click on the first image to scroll through the entire gallery.
---
In The Pen Woman, Spring 2018
---
Pensacola Attends Inspiring Florida State Convention
By Autry Dye, Pensacola Branch
Attending my first NLAPW State Conference in Daytona Beach, Florida, in December was an experience I'll never forget. It takes many people to organize a state or national conference and have it come off smoothly. Many hurdles have to be overcome, and for the Florida State planners this year, this included a hurricane that damaged the original hotel where it was planned, resulting in the rush to find a new hotel that could accommodate the conference and be as close to the original date as possible. State President Carol Welsh Somma and her committees did it beautifully.
Seven of our members traveled from Pensacola to Daytona Beach, where we were welcomed with open arms and big smiles. We enjoyed being with talented people. We had great weather and a lovely hotel. What was it like in two words? Awesome and inspiring.
To our great joy, our Pensacola Branch received five awards in art and two in letters, plus our president, Mara Viksnins, received the honor of being named Pen Woman of the Year for the state of Florida.
The closing memorial service was especially moving, a tribute to each member who had died during the last two years. A candle was lit for our own Donna Freckmann in memorial.
I would like to encourage every member to attend an NLAPW conference. You come away with a bond that cannot be broken by distance. Every speaker was well prepared and gave knowledge freely. They were very personable and inspiring. I am very proud to belong to this wonderful group of professional and creative women.
---
Boca Raton and Fort Lauderdale Team Up for Show
The Boca Raton and Fort Lauderdale branches had their first annual art and photography show at Sugar Sand Park in Boca Raton. Art chairs Tammy Seymour (Fort Lauderdale) and Prue Carrico (Boca Raton) organized the well-attended event. Exhibit dates were Dec. 28 to Jan. 24.
Winning entries were:
• First prize: Tammy Seymour, "Day's End"
• Second prize: Sandy Hynds, "Spring has Sprung"
• Third prize: Prue Carrico, "Honeycreeper's Brunch"
• Honorable mention awards: Joni Sack, "Hydrangea and Fruit"; Bea Donne-Merna, "Precious"; Kirsten Hines, "Contentment"; Marcia Hirschy, "Caverns"
---
Northern California Branches 'Celebrate Women!'
By Jill Adler, Modesto Branch
The Northern California NLAPW branches presented the exhibit "Celebrate Women!" at the John O'Lague Galleria, Hayward City Hall in Hayward, California. The exhibit ran from Oct. 6 through Nov. 17, 2017.
"Celebrate Women!" represented the first collaborative exhibit of NorCal members. Although fine-arts members contributed the largest number of works, several letters members presented framed prose or poetry for display.
The brainchild of Diablo/Alameda President Winnie Thompson, "Celebrate Women!" pulled together 52 Pen Women. Thompson also coordinated the event for NorCal NLAPW.
Members of the NorCal Pen Women branches hosted a reception in October, which included food and wine for approximately 125 attendees.
Heather Reyes, president of the Hayward Arts Council, introduced NorCal NLAPW President Dorothy Atkins, who presented certificates of commendation issued by National President Virginia Franklin Campbell to several local officials. Among those attending were Hayward Mayor Barbara Halliday, Alameda County Supervisor Richard Valle, representatives for supervisors Nate Miley and Wilma Chan, and California State Assemblyman Bill Quirk.
Diablo/Alameda member and Celtic harpist Margaret Davis, accompanied by husband Kristoph Klover on guitar, provided musical entertainment. Exhibiting artists and writers mingled with patrons to discuss their works. Several members sold pieces from the exhibit.
On Nov. 3, the Hayward Arts Council also hosted a "We Love the Arts" fundraiser, featuring the opportunity to view "Celebrate Women!"
John O'Lague Galleria curator Winda Shimizu has invited NorCal NLAPW to exhibit again in 2018. NorCal consists of six branches: Diablo/Alameda, Golden Gate-Marin County, Modesto, Sacramento, Santa Clara County, and Stockton-Lodi.
A "Celebrate Women!" video, produced by Modesto Branch Vice President Jill Adler, features many of the exhibition artworks.
---
Muncie Members Learn from Inspirational Speaker
Members of the Muncie Branch, Indiana, met in December for a luncheon and a program by Rachael Phillips (center in photo with the red, black, and white scarf), who was featured in the anthology "A Door County Christmas," among many other books and writings. The author, whose writing career began in her 50s, is a past winner of an Erma Bombeck humor award. She credited much of her success to her willingness to say, "Sure!" to writing opportunities that came along, whether she had experience in a genre or not. She then followed up with extensive research and hard work to accomplish the tasks.
After the keynote address, as a nod to the holidays and shopping season, members and guests were invited to share their creative works with the group. Art pieces and published books were presented to the group. Overall, the speaker and conversations created an exceptional meeting of making new friends and renewing acquaintances, and the beginnings of ushering in the new year as we look forward to more artistic endeavors.
---
Central Ohio Members Celebrate Milestones
Several members of the Central Ohio Branch have recent professional achievements.
Art on Display
Abby Feinknopf, Veena Bansal, and Dawn Petrill all had work included in the Columbus Museum of Art's annual fundraiser, "An Evening with Art," in March. Feinknopf's fabric collage, "Red Hush"; Bansal's oil painting, "One Fall Morning"; and Petrill's acrylic painting, "All Things Hidden Shall be Revealed," were all on display and available for bidding.
Abby Feinknopf hosted the opening of her exhibit at Copious in March. Her fabric collages, acrylic and paper collages, and latest bold acrylic paintings were displayed throughout the restaurant.
"Red Iris," created by Vivian Ripley with her pastel "water method," recently took best of show at an exhibit at the McConnell Arts Center in Columbus, Ohio. Her special watercolor technique is spotlighted in a chapter in "The Watercolor Landscape Techniques of 23 International Artists." She developed the unique method using a large, flat, damp watercolor brush to move the pastel in a free manner to form the basis and much of the painting, with details added at the end. This method must be done on one of many pastel papers that will accept liquid treatment.
Renate Fackler's sculpture, "Renate as a Lady Slipper Orchid," will be in the gallery artists' exhibit, "SELF," April 6 through 29 at the Sharon Weiss Gallery in Columbus, Ohio.
New Books
Margaret Leis (Peg) Hanna has published her second book, "Peanut Butter on the Wall & Marshmallows in the Microwave, Memories of Raising Six Hannas in Gahanna." Each chapter reveals true stories of the trials and joys of raising six children.
Rose Ann Kalister, award-winning playwright and author, has published her debut novel, "Sister of Saidnaya." "It is the story of Nadra, a young Syrian woman who arrives in the United States in 1922 and settles with her family in Hedley, West Virginia. (See book review.)
---
Santa Clara County Salutes 'Celebrities'
By Patricia Dennis
Each year, the Santa Clara County Branch members pitch in and work together to host a Celebrity Luncheon to honor individual women who have achieved professionalism in letters, music, and art. The proceeds of the event go toward the scholarship awards presented in April.
This year's luncheon theme was "Make Mine Country Style." A quick line-dance lesson, and guests were up and moving to the music of the Country Cougar trio. The highlight of the event were the 2018 honorees, all outstanding representatives of their perspective fields. Honored for their talents were: Pat Fisher, Marcia Sivek, Lorraine Lawson, and Annette Tan in art; and Karen Franzenburg, Judith Shernock, and Tina Jones Williams in letters. Ruth Huber and Lorna Kohler were the two musician celebrities. Our congratulations to these talented ladies — they are an inspiration.
As an opening of the celebrations, NorCal President Dorothy Atkins gave a compelling speech on what it meant to be a Pen Woman. A guest said that this talk was what inspired her to seek membership in our organization.
Here's what Dorothy shared: "Some years ago, a woman approached me about becoming a Pen Woman. I knew nothing about the organization but I took a chance and joined. Here is what I found: an aura of creativity; strong, passionate women changing their communities with powerful brush strokes, written words that made me pause, photographs that took my breath away, melodies that touched my heart, poems that stopped me in my tracks, and stories that enlightened me.
"I was smitten, like falling in love for the first time. Why then had I not heard of the Pen Women before? Could this be true, women supporting each other, marveling at each other's talents, attending their shows, and promoting other members? Slowly, I began to tell folks that I belonged to the National League of American Pen Women. I would say I am an artist, writer, storyteller — and I am a Pen Woman.
"Our branch memberships over the last year have increased significantly. We are being recognized as kindred spirits reaching out to others through outreach.
"In closing, I must add that I am a Pen Woman because I have to be. We give support and receive support from like-minded women. I am proud to be a part of that. We are living our gift."
---
Greenwich Bestows 2017 Owl Award
Julie Dolphin was the 2017 recipient of the Owl Award, Greenwich Pen Women's highest honor that is given yearly to a member who has distinguished herself in her field. An adjunct professor of world languages and literature at Manhattanville College, Dolphin has attained success as a freelance singer and composer. She has a long list of international credits.
She is an active participant in many volunteer activities in Fairfield County and the surrounding area. Recently, she created an enthusiastically received afterschool music program for children at the Byram Shubert Library.
The Owl Award was presented at the festive Greenwich Pen Women holiday luncheon at the Greenwich Field Club. President Deb Weir announced the winner, sharing the contents of a very, very long list of Julie Dolphin's professional and academic accomplishments. It was the highlight of what has been a very busy year.
---
All Cities Branch Sponsors ESL Poetry Contest
The All Cities Branch sponsored an ESL Poetry Contest covering Nassau County school districts, New York, with high concentrations of English as a second language (ESL) student populations. Students had to write a poem with a maximum of 20 lines, in any form, about their home countries.
The winners of the contest are: Martha Raudales, third place for "My Dear Place"; Nahin Flores, first place for "My Country"; Idalia Hernandez, second place for "My Beautiful Country," from Roosevelt High School.
The contest was sponsored by the poetry committee of Anna Di Bella and Denise Kolanovic.
---
NLAPW President Virginia Campbell's visit to New Mexico's Yucca Branch
—

Trip to the Courthouse

These photos were taken during a February 15, 2018 visit to the rotunda of the Sandoval County Judicial Complex in Bernalillo, NM. Jane Maclean's 30″ x 38″ historical still life pastel paintings, which tell the story of Sandoval County, are there on permanent display.
---
In The Pen Woman, Winter 2018:
---
Diablo/Alameda Honored for Outstanding Work
The Diablo/Alameda Branch was honored for their outstanding works by the Artists Embassy International at the Dancing Poetry Festival, held in September 2017 at the California Palace of the Legion of Honor in San Francisco.
Each year, Artists Embassy International honors the work of outstanding organizations and individuals who have lent their artistry to help to fulfill its dedication to further understanding and good will through the universal language of the arts. Honoring the Diablo/Alameda Branch of NLAPW was of particular significance, as the membership includes literary outreach, art events, and extraordinary works such as the annual Dancing Poetry Festival.
It was especially rewarding as the San Francisco Mayor Edward Lee acknowledged the significance of the work of the awarded organizations as well as the members, artists, their arts, and their audience and guests.
Members of AEI, the 14 performance companies that presented their own unique versions of dancing poetry, 48 prized poem presenters, book and literary awardees, and new high school poet laureates joined in the recognition ceremonies honoring the works of the Pen Women.
---
Southeast Louisiana Celebrates with Oldest Member
The Southeast Louisiana Branch celebrated the birthday of its oldest member, Claire Rohrbough, at the September meeting. She is a longtime active Pen Women who has been instrumental in promoting the organization, which she loves dearly.
Still sharp as a tack, Rohrbough contributes ideas and wisdom to her Pen sisters at meetings. When asked how does she feel being 102, she smiled and said, "No peer pressure."
Happy 102nd birthday, Claire!
---
Boca Raton Hosts Luncheon, Raises Funds for Awards
Boca Raton Branch hosted its October membership buffet luncheon at the beautiful Westchester Country Club. Art chair Prue Carrico organized an art auction of members' work and letters co-chair Carol White arranged a member-author table.
Silent auction baskets concluded a successful day, with funds going toward the branch's Achievement Awards program.
---
Stockton-Lodi Members Exhibit in Shows
Caroline Henry, president of the Stockton-Lodi Branch, California, was inspired to create "The 75 Show" when her 75th birthday would occur during September, the month she had been invited to be the featured artist at the Lodi Community Art Center Gallery. From early May through the beginning of August, she created 75 7-by-5-inch images in various media and spent August framing, publicizing, and otherwise preparing for the show.
"I would love to see other Pen Women borrow this idea for landmark birthdays. It inspired a big burst of creativity, and people responded well to a show built around this theme," she said.
By the end of the reception, seven paintings had sold, and others continued to sell through the month.
Additionally, branch member Elizabeth Parrish was accepted into the "Other Worlds" exhibit at the Southeastern Center for Photography in Greenville, South Carolina, during October. Of 600 entries, 34 were accepted.
---
Pensacola Welcomes New National Members
By Karen Morris, Branch Secretary
Eight new NLAPW members were recognized at the September meeting of the Pensacola Branch, Florida: Janice Burns, Claire Massey, and Linda Kelley (letters); and Judy Eggart, Diane Obe, Suzette Brooks, Staci Maron, and Jane George (art). Helen Breton, already a letters member, received her certificate in art.
Membership chair Helen Breton presented the certificates along with Autry Dye (retiring membership chair, who has served since 1984), whom she honored as "our cornerstone." President Mara Viksnins credited Breton and Dye for "changing the face of the organization" for their recent efforts.
Dye became an art member in 1978 while living in the Panama Canal Zone, where many of the women were multilingual and had international membership. Gratified that today's group is as big as it has ever been, she recalls being asked in Pensacola in 1980 to help revive the flagging Pen Women branch.
She received letters membership about a decade later, and remembers reading aloud her first short story (about a childhood desire for a pair of yellow Mary Janes) at a branch meeting.
Dye praised Viksnins for maintaining interest in Pen Women and being the "glue" that holds the organization together, and Breton for her hard work this past summer that resulted in the incredible number of eight new national members. Dye likened the process to planting seeds. "This summer, all the seeds I have been planting came to fruition," she said.
The Pensacola Branch will celebrate its 75th anniversary this year, and its recently published book, "Nobis: Making Others See," is a fitting tribute to the organization and to the members' own inspirations and accomplishments.
The book is a collection of selected works from 28 of Pensacola Branch's members and patrons. Selections include full-color photographs of their artwork, poetry and prose writings, and artists' statements.
"Nobis" is the Latin word for "us." The cover art, "Dancers" by Mara Viksnins, symbolizes the theme.
"This book was put together with great care to show how women artists, poets, writers, photographers, and crafters with divergent backgrounds, unique skills, and personal ideals could come together in harmony," said Viksnins, who is also the branch president.
---
Central New York Member Wins Book Award
Syracuse poet and author Georgia Popoff, a Central New York Branch member, found herself in the winner's circle at the Central New York (CNY) Book Awards, hosted at the CNY Philanthropy Center in Syracuse in November. Popoff was named a winner for her book, "The Whiskey of Our Discontent: Gwendolyn Brooks as Conscience and Change Agent," in the nonfiction category.
Popoff is the co-editor, along with Quraysh Ali Lansana, of the book of essays on Brooks. Sonia Sanchez wrote the introduction to the compilation. In addition to serving as editor, Popoff wrote one of the contributing essays in the collection: "Breaking Glass and the Sad Shatter of Hope." Popoff's book won in a large field of nonfiction books nominated for the award.
In addition to Popoff's win, CNY Branch VP of Communications Nancy Dafoe was recognized for her poetry chapbook, "Poets Diving in the Night," a finalist in the poetry competition, and her nonfiction book on education policy, "The Misdirection of Education Policy: Raising Questions about School Reform."
The CNY Branch also had a poetry anthology, "In the Company of Women," nominated for an award in the poetry category. Branch members Dafoe and Lorraine Arsenault served as co-editors of the honored poetry anthology, the work of the entire membership of the branch.
In addition to CNY Branch members Popoff and Dafoe, branch President Mary L. Gardner; Sheila M. Byrnes, national second VP and historian; and member Karen Hempson attended the event to support the CNY Branch contributions to the CNY Book Awards.
---
Connecticut Pioneer Plans for a Busy Year
The Connecticut Pioneer Branch launched its season in September with a meeting featuring new President Thalia Cokkinos, who treated the members to a musical performance. She performed on the harp and sang both her own compositions and a selection of her favorite pieces by others. A potluck lunch followed.
The branch's October meeting took place at the Cos Cob Library, with longtime member Harriet Gayle giving a timely slide presentation titled "Why Leaves Change Color and Fall." Her scientific knowledge and excellent color photographs enriched the members' learning. Afterward, the group met for lunch at the nearby Drawing Room restaurant.
Artist members had an opportunity to exhibit their latest creationism show titled "Autumn Reflections" at the Byram Shubert Library's Gallery in November. The opening reception not only presented art works of many members but also had a musical element. Honorary member Justine Macurdy played the piano, highlighting compositions by music co-chair Marcia Preston, whose lively melodies inspired dance performances by several onlookers.
The branch is planning a December Holiday Sing to gather gifts for teens in need, a February Writers' Workshop led by member Dr. Regina Krummel, a March program on women jazz composers and arrangers by music member Patti-Preiss Harris, and an April trip to the Museum of Modern Art.
---
Palm Springs Features Inspiring Speaker
The Palm Springs Pen Women were elated over their first meeting of the new season in October. The speaker, Pamela Jordan, was mesmerizing. She is president of The Idyllwild Arts Foundation and head of The Idyllwild Arts Academy, and shared her profession with the Pen Women in an inspiring, uplifting, and captivating manner. All of those in attendance declared that her presentation was "dynamite."
She had something to say for everyone in the room: letters, music, art, drama — a perfect speaker for Pen Women.
---
Diamond State Opens Season with a Little History
By Mary Lou Griffin, Branch President
Oct. 17 was our first branch meeting of the 2017-'18 season. It was good to see some faces of people we've not seen for a while!
Our own, very accomplished Evelyn Swensson was the guest speaker at the DuPont Country Club for the afternoon, dressing the part and playing Clare Boothe Luce. Luce was an American author, politician, U.S. ambassador and conservative public figure. She was the first American woman to be appointed to a major ambassadorial post abroad.
It was a fascinating, informative afternoon. And Evelyn looked stunning in period dress! Thank you, Evelyn for sharing your knowledge and talents with our group!
---
Santa Clara County Presents Outreach Program
By Patricia Dennis
The Santa Clara County Branch presented an outreach program at the San Jose Women's Club.
Outreach Chair Dorothy Atkins opened the program a with a brief history of Pen Women and an invitation to join. Luanna Leisure, Carol Brolin, Patricia Dennis, and Nancy Bloomer Duessen then all wowed the crowd with their speeches. They talked about Pen Women, shared their passions, and got the word out about the National League of American Pen Women.
About 30 women and a few men turned out for the event. Also in the crowd were Pen Women Dorothy Brown, Susan Zerweck, and Pat Fisher. A lot of interest was generated, with a few people wanting to know more about joining.
Dorothy Atkins and new member Pat Fisher then spent a morning on outreach in the community at Ricochet Wearable Art. This is a remarkable business where owner Jill Pillot runs a sewing camp and a runway academy for young girls and women who want to express their inner artist. She is committed to inspire and empower women of all ages to explore art without boundaries.
Her boutique is unique, community oriented, heartfelt, and timeless. Not only did they find an artist who was interested in joining Pen Women, but Jill Pillot is also interested in joining NLAPW.
Other branch outreach projects include an exhibit in the study lounge at the Santa Clara Branch of the Saratoga Library, where we hope to reach out to students and adults as well and interest them in the NLAPW.
Saratoga Senior Center is also a good venue for outreach programs. Last month, we joined member Diana Chan at the center as she spoke about her book, "Animals with Backbones," and showed an intriguing video of her safari adventure.
These events continue to be very important in bringing more awareness about the NLAPW. This quarter, we boast seven new members!
---
Golden Gate-Marin County Awards Scholarship
In 2002, the Golden Gate-Marin County Branch began sponsoring an annual art scholarship in the amount of $500 to a female graduating senior planning to pursue visual arts at a college, university, or art institute. The 2017 winner, Danielle Kisseberth of Tiburon, California, presented a very strong portfolio to the scholarship committee, showing a wide range of artistic interests.
In addition to studying advanced placement art courses at Redwood High School, Kisseberth attended the School of the Arts Institute of Chicago Early College Program in architecture; The Crucible glassworks studio in Oakland; and Masterworks, where she studied mosaics. She is now attending the Rhode Island School of Design.
This year, the branch will again present a $500 scholarship, plus a $150 gift card for art materials to a second graduate in honor of Idell Weiss, a longtime Pen Woman who died on Oct. 24, 2017. (See the tribute to Idell on the In Memoriam webpage.)
---
---
Boca Raton Branch faces Irma with hope and humor
Remembering Irma With Our Pens
---
Greenwich Branch announces 2017 Owl Award
Julie Dolphin is the 2017 recipient of the Owl Award, Greenwich Pen Women's highest honor, given yearly to a member who has distinguished herself in her field. An Adjunct Professor of World Languages and Literature at Manhattanville College, Ms. Dolphin has attained success as a freelance singer and composer. She has a long list of international credits.
Ms. Dolphin is an active participant in many volunteer activities in Fairfield County and the surrounding area. Recently, she created an enthusiastically received afterschool music program for children at the Byram Shubert Library.
The award was presented at the festive Greenwich Pen Women Holiday luncheon at the Greenwich Field Club. President Deb Weir announced the winner, sharing the contents of a very, very long list of Julie's professional and academic accomplishments. It was the highlight of a what has been a very busy year.
---
Celebrate Women! Huge Success for NorCal NLAPW
The Northern California NLAPW, Inc. branches held a reception on Oct. 6, 2017, to introduce its first collaborative exhibit, Celebrate Women! at the John O'Lague Galleria in Hayward City Hall in Hayward, California.
Members of the NorCal Pen Women branches hosted the reception, providing food and libations for approximately 125 attendees. Diablo/Alameda member and Celtic harpist Margaret Davis, accompanied by husband Kristoph Klover on guitar, provided musical entertainment while guests had the chance to personally meet with many of the Pen Women.
California State Assembly Member Bill Quirk also attended the reception.
On Friday, Nov. 3, 2017, the Hayward Arts Council will hold "We Love the Arts Fundraiser" featuring the opportunity to view Celebrate Women!
John O'Lague Galleria Curator Winda Shimizu has already asked NorCal NLAPW, Inc. to exhibit again in 2018.
The brainchild of Diablo/Alameda President Winnie Thompson, Celebrate Women! embodied the collaboration of 52 Pen Women artists and poet/writers. Thompson also coordinated the event for NorCal NLAPW, Inc..
Celebrate Women! runs from Oct. 6 through Nov. 17, 2017. NorCal NLAPW, Inc. consists of six branches: Diablo/Alameda, Golden Gate/Marin, Modesto, Sacramento, Santa Clara County and Stockton/Lodi.
Celebrate Women! video, produced by Modesto Branch Vice President Jill Adler, can be viewed on YouTube: Celebrate Women! video
Submitted by Jill Adler
NorCal News Editor
Newsletter for the NorCal NLAPW branches
Modesto Branch
---
Pensacola, FL Branch Congratulates Eight New National Members

Eight new National members were recognized at the Pensacola, FL Branch's September 2017 meeting: Janice Burns, Claire Massey, and Linda Kelley (Letters); Judy Eggart, Diane Obe, Suzette Brooks, Staci Maron, and Jane George (Art). Helen Breton, who already holds National certification in Letters, received a certificate in Art.
Membership Chair Helen Breton presented the certificates along with Autry Dye (retiring Membership Chair, who has served since 1984), whom she honored as "our cornerstone." Autry, who also holds National certification in both Art and Letters, was presented with a commemorative gift for her extraordinary service.
---
NORCAL Branches Celebrate Women!


---
In The Pen Woman, Fall 2017:
---
Bayou City II Continues to Grow
By Treanor Baring, Bayou City II Branch President
The Bayou City II Branch, the newest branch formed, continues to add members. A close-knit (read "tiny") branch heading toward 15 members, it hosts writing workshops on a weekly basis, as well as takes art field trips.
Branch members toured the Holocaust Museum Houston and its special exhibit GENOCIDE: Man's Inhumanity to Humankind, which included Vice President Ava Cosey's piece, "Legacy of a Lie." Selected as one of 63 pieces from over 600 submissions by Texas artists, Cosey's painting depicts the "Scottsboro boys," nine African-American youths imprisoned in 1931 and later exonerated.
The museum's website describes the exhibit as "part of HMH's mission to teach the dangers against hatred, prejudice, and apathy. Through the eyes of each artists' work, these lessons are reflected vividly, hauntingly, and provocatively with the understanding of the brutality and senselessness of such acts."
In branch business news, the branch elected its new slate of officers, approved new member applications for submission to the national office this fall, and welcomed transfer Amelia Morris from the Des Moines Branch. Elected were Treanor Baring, president; Ava Cosey, vice president; Jamie Mcardle, treasurer and membership chair; and Karen Smith, recording secretary. Fall plans include continuing writing workshops, art events, and Skype sessions with our virtual members and possibly other branches.
---
Central Ohio Artists in the Spotlight
Three of Central Ohio Branch's artists had their work featured recently to the public.
Kathy Anderson is one of 34 artists participating in the groundbreaking "Columbus Crossing Borders" project. It is currently in production as a traveling art exhibit and documentary film.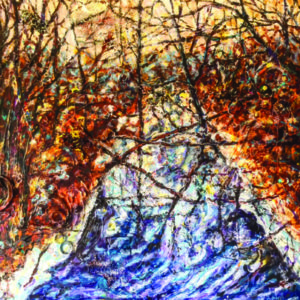 The artists were challenged to "cross borders," working into one another's paintings in a process symbolic of refugees who must cross borders as they flee war and persecution and make new homes for themselves in unfamiliar places.
The visual collage that results will pay tribute to the courage and resilience of those who experience the loss of their homelands and must hope for welcome and new beginnings in strange, new places. The documentary premiered at the Drexel Theatre in Bexley, Ohio.
Anderson's paintings were also shown at the Boston Mills Art Festival in Peninsula, Ohio, in June, and her work has been accepted into the Columbus Winterfair, which takes place in December.
The work of two artists from the branch was exhibited at the Ohio State Fair Fine Art Exhibition in August. One painting was Dawn Petrill's "Memories' Quiet Interlude" and the other was Bev Goldie's encaustic titled "Remnants."
---
Santa Clara Members Keep Busy Summer Schedule
By Patricia Dennis
Summer and the living is easy. Well, not exactly! Pen women are always on the go. The Santa Clara County Branch participated in an outreach program at the San Mateo Fair in June. Members Dorothy Atkins (also NorCal president), ShaRon Haugen, Pat Fisher, and Patricia Dennis handed out materials promoting NLAPW. There were quite a few interested in our organization. Gatherings like these keep the NLAPW's name out there and encourage other creative women to join our strong group of professionals.
Louise Webb hosted a fun event in which 11 Pen Women participated in filming a video clip about what Pen Women means to them. It gave us insight on what really motivates us, and we all agreed that being in the company of other creative women is inspiring.
Luanna Leisure, branch secretary, was asked to do a presentation at the 120th anniversary gala at the Pen Arts Building and Art Museum about her outreach at an elementary school.
"I feel so humbled to have been a part of it," she said. "My video presentation of the children went over very well and brought cheerfulness to the atmosphere."
Nancy Bloomer Deussen's composition, "Amber Waves," was performed magnificently at the event by Dr. Kristina Tanner. The program was filled with outstanding and talented women.
Dorothy Atkins and Pat Fisher had a morning of outreach into the community as they visited with Jill of Ricochet art. It is a remarkable location where Jill runs a sewing camp and a runway academy for young girls and women who want to express their inner artist. She is committed to inspire and empower women of all ages to explore art without boundaries. Her unique location is one of a kind, community oriented, heartfelt and timeless. Several possibilities were discussed for Pen Women and Ricochet to perhaps do a tea/fashion show/art show in the future.
Diana Chan made an impressive presentation at the Saratoga Senior Center on her African safari, tying in her two books, "Animal Kingdom Vertebrates" and "Animals with Backbones," and her cookbook, "Easy 'n Healthy Cooking." Pen Women Louise Webb, Bonnie Jo Smith, Dorothy Atkins, Luanna Leisure, ShaRon Haugen, Patricia Dennis, and Patty Dick were in attendance and talked with other visitors, encouraging them to check out the Santa Clara County Branch.
Later in July, Patricia Dennis and ShaRon Haugen participated in an art show at Los Gatos Birdwatchers and chatted with other artists. We have one lady interested in joining! As she stated, "It is worthwhile being a part of an organization that promotes art and also gives back to the community in the way of scholarships."
---
Sarasota Celebrates 60th
By Barbara Jendrysik, Publicity Chair
Sarasota Branch members have been celebrating their 60th anniversary in many ways.
The branch started the festivities by designing a logo, a banner, and a pin. All have been proudly displayed by branch members.
In February, a panel discussion titled "The Artist's Journey" was presented to the public by Ronni Miller, Alice Moerk, Lolly Owens, and President Brenda Spalding at the Selby Library in Sarasota. Each member told the audience her personal story of her artistic endeavors and spoke about the rewards and roadblocks along the way.
In March, the branch participated in the Sun Circle Art Festival to introduce the community to NLAPW. Members greeted attendees and distributed information about the League. Art work and books by the members were sold to benefit the annual student awards program. Coincidentally, one of the past student awardees was playing in a band at the festival and shared an update about his music education and career after graduation.
In May, the Ringling College of Art and Design showcased the work of the Sarasota Branch at the annual Community Exhibition. Twenty art members filled the Richard and Barbara Basch and Willis Smith Galleries with 60 works of art. Letters members joined in the exhibit with over 40 of their books on display.
The exhibit lasted nearly a month, and 200 guests attended the opening reception. There was even a 60th anniversary celebration cake. Vice President Polly Curran added to the exhibit with her ikebana floral arrangements, creating a new arrangement each week. Carol Doenecke, art chair, coordinated the exhibit with the Ringling College.
During the exhibition, a docent tour led by art member Lolly Owens provided 60 guests with information about the artists and their works.
Local newspapers and magazines published articles about the exhibition and the 60th anniversary celebration.
---
Portland Funds Scholarship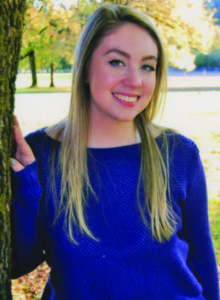 Milwaukie High School chose Carissa Lee Nott (pictured) as the 2017 letters winner to receive Portland Branch, Oregon, Pen Women's $200 scholarship.
Carissa is the daughter of Chuck and Cara Nott. She plans to study criminal justice and law at Pacific University at Forest Grove.
"National League of Pen Women, thank you so much for awarding me the $200 scholarship. It means a lot to me and I can assure you it will be put to good use in college," she wrote in her thank-you note to the branch.
---
Modesto — Like Mother, Like Daughter
Earlier this year, Virginia Dall was welcomed as a new member for letters by the Modesto Branch, California. She was sponsored by her daughter, Louise Kantro, branch treasurer.
Virginia says she is "thrilled, at the age of 92, to be joining her daughter and other women to celebrate creativity."
A retired community college instructor, she wrote poetry occasionally, increasing her output somewhat in retirement. After her husband's death, she moved from San Diego County to Modesto, California, writing with a renewed vigor.
"I was pleased to introduce my mother to the group that welcomed me five years ago," daughter Louise says.
---
Omaha Branch Hosts National President
By Connie Spittler, Omaha Branch President
In July, longtime members of the Omaha Branch welcomed NLAPW President Virginia Campbell to our area's Millard Branch Library.
Her talk, the highlight of the program, was followed by a literary and visual exhibit of creative work by present and past members.
Examples in the letters category included memoir, history, mystery, poetry, essay, academic studies, magazine articles, and short-film adaptation.
The visual category displayed drawings, oil and acrylic paintings, porcelain sculpture, an inspiration quilt, and handmade paper art pieces.
The colorful presentation contributed to this diverse, special event illustrating the spirit and history of a branch started in 1973.
---
Honolulu Hosts Art Show
The Honolulu Branch hosted its biennial art exhibit this summer. The opening was very festive, with live music, delicious food, and an imaginative "Lost and Found Hunt" including a remote control, sunglasses, keys, fine jewelry, and scarves, which had been hidden earlier around the exhibition space.
The works chosen included classical landscapes, portraits, and more. Susie Anderson won first place for a painting of Chun's reef, a lovely local surf spot on the North Shore of Oahu. Margo Goodwill received second place for her sculpture, "A Whole School of Fish" (pictured).
---
Atlanta Donates to NLAPW
By Fran Stewart
The board of the Atlanta Branch voted recently to donate $2,000 to the national organization. We discussed ways in which our branch could support the national organization above and beyond our annual dues contributions. Over the past years, our branch has benefited from several generous bequests, and we chose to share our bounty with our parent organization. The wording of one of the board members was eloquently succinct: "As National thrives, we thrive."
All our branch members are committed to the survival of NLAPW, but we not only want it to survive, we want it to flourish. Where else can we find such a pool of dedicated artists? In Atlanta, we follow the national commitment to encourage each other in our artistic endeavors, and we feel the money we donated can help to benefit all the members with the guidance of our national board.
Our success as a branch has always been based on the long-range, artistic vision of NLAPW, and we feel that as members, we have professional opportunities that we might not benefit from otherwise, as well as the credentials associated with a long-standing professional organization. Therefore, our hope is that our infusion of funds into the NLAPW coffers will come back to all the branches in long-range benefits as NLAPW prospers nationwide.
---
Boca Raton Honors Students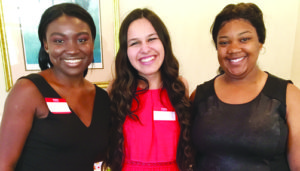 Three college-bound women (pictured) received achievement awards in letters at the Boca Raton Branch's May 2017 luncheon.
The special Marlene Klotz Achievement Award was presented to Alexandra J. Monte. Krystal Bogle and Arielle Matthews were the other recipients.
---
Pensacola Branch Publishes Nobis
Karen Morris, Secretary
Pensacola Branch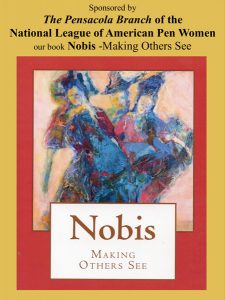 Nobis: Making Others See is a collection of selected works from 28 of the Pensacola Branch's members and patrons. Selections include full-color photographs of their artwork, poetry and prose writings, and artists' statements.
The Pensacola Branch will celebrate its 75th anniversary this year, and this book is a fitting tribute to the organization and to the members' own inspirations and accomplishments. "Nobis" is the Latin word for "us."
The cover art, "Dancers" by Mara Viksnins, symbolizes its theme. Viksnins, also the branch president, states, "This book was put together with great care to show how women artists, poets, writers, photographers, and crafters with divergent backgrounds, unique skills, and personal ideals could come together in harmony." The book is available in paperback on Amazon.
---
Our Southeast Louisiana branch celebrated our oldest member's birthday at our September meeting.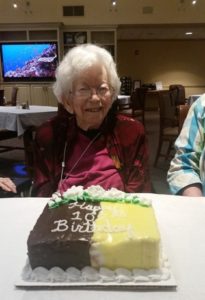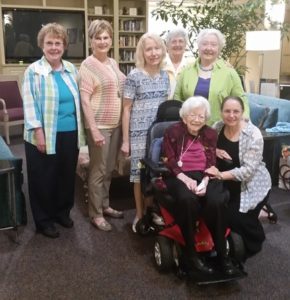 Claire Rohrbough is a long time active member of Pen Women. She has been instrumental in promoting this organization, which she loves dearly.
Still sharp as a tack, she contributes ideas and wisdom to her Pen sisters at meetings.
When asked how does she feel being 102, she smiles and says "no peer pressure "
Wishing you a Happy 102nd birthday Claire. We love you!
Your SELA Branch Pen Sisters
---
Pen Women Connect in a Statewide Florida Event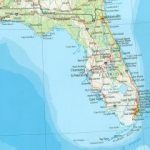 Members of the National League of American Pen Women in Florida will come together for the extraordinary FSA/NLAPW 2017 Conference November 10-12, 2017.
Florida Pen Women will explore ways to enhance branch effectiveness and the personal goals of each member.
Only current (dues paid) Florida Pen Women – members of Florida Branches and Members-at-Large living in Florida – may participate in the conference boutique and enter in the many competitions for awards: in Art, Letters and Music, and specialty awards, including Pen Woman of the Year Award and Individual Achievement Award.
---
In The Pen Woman, Summer 2017:
Cape Canaveral Awards Writing Scholarship
At a luncheon meeting on May 13, the Cape Canaveral Branch awarded its 2017 Writing Scholarship to Taylor Martin, a Viera High School senior.
The 21 members present enjoyed hearing Taylor read an excerpt from her novel-in-progress, as proud parents Carrie and Scott Martin looked on.
Hosted at the Indian River Colony Club in Melbourne, the luncheon gave an opportunity for branch members not only to recognize the scholarship recipient, but also to socialize one last time before their summer break.
Photos by Mary Dall
---
Palm Springs Members Participate in Book Expo
By Carol Mann
Five Pen Women writers from the Palm Springs Branch took part in the annual Desert Writers Expo Book Festival at the Rancho Mirage Library in Rancho Mirage, California, in March. The event, sponsored by the library and the Palm Springs Writers Guild, hosted 40 authors. Genres ran the gamut, as highlighted by the books created by these Pen Women.
Joanne Hardy's novel, "The Girl in the Butternut Dress," tells the story of Gabrielle Pryor as she faces chaos and violence when her familiar neighborhood comes apart in divided loyalties on the eve of the Civil War.
"Prostitutes, Virgins and Mothers: Questioning Teachings About Biblical Women," a nonfiction book by Paula Trimble-Familetti, gives women the voice they have been denied to shatter traditional interpretations of their stories.
A collection of original poetry and art by author Carol Mann and local artist Lynn Centeno, "All Ways A Woman" celebrates and honors a woman's journey — her thoughts, her loves, her many roles in life, her dreams and desires.
"Sargent's Lady," a novel by Judith Fabris, is a broad, sweeping story of women's friendships, tragic love, lost children, and the incredible portrait that sparks the journey in the opening chapter.
Using the idea of a rerun associated with a television episode that is repeated for viewing pleasure, "Reruns" by D. Marie Fitzgerald draws on episodes from her life, transforming and adapting the episodes into short story, memoir, and poetry.
These Pen Women enjoyed an afternoon rich in books, ideas, sales, and camaraderie.
---
Pensacola Celebrates 75th with Legacy Show
By Karen Morris & Nancy Nesvik
On one of Pensacola, Florida's idyllic, sunny winter afternoons this past January, a dozen women assembled at St. John's Cemetery to make gravestone rubbings as part of an effort to appreciate the talented Pen Women who were Pensacola's early- to mid-20th century poets, historians, and educators.
Today's Pensacola Branch will celebrate its 75th birthday in 2018. In their 2016-2017 monthly meetings, members focused attention on their heritage, which they honored with a show (26 participants) at the Wright Place in May called Pen-Sational: Our Pen Women Legacy Continues.
"We were excited to celebrate our 75th anniversary with our show at the Wright Place, which featured art, poetry, and music," says Mara Viksnins, the branch's president and driving force behind the historical and artistic project.
"The many paths taken by Pen Women nationally and locally in the past have added a whole new dimension to our organization," she says. "They were the pioneers who shaped the roles of women and were instrumental in setting the stage for the future, in times when women were not acknowledged nor respected for their artistic gifts. We find ourselves grateful and more interested than ever in keeping our heritage alive, respecting it, studying it, and learning from it."
The reception for the show took place on Mother's Day. It was a poignant connection for Nikki Strahota's piece, "One Woman's Journey," a collage of Pen Women memorabilia honoring her mother, Marie Fortune-Burkhart Blood, an accomplished short-story author and a Pen Woman herself (1918-2004). Linda Devins created a period-dressed doll,
"Owlberta," for the show. The writing within Mara Viksnins' painting, "Coming Off the Pedestal," comes from personal letters written by young girls during the 1920s.
---
Greenwich Honors Oldest Member
By Judy Crystal, PR Chair, Greenwich Branch
Marie Schwartz, the oldest member of the Greenwich Branch, maintains an active interest in the affairs of the group at the impressive age of 97, serving as a mentor and adviser to many of the younger members.
Her literary career has been long and impressive. As Marie Smith (her maiden name), she covered the White House, writing a column for the Washington Post for 16 years. During that time, she served as head of the Washington, D.C. Branch of the NLAPW.
Her experiences led to several books about life in the White House and its inhabitants. Her friendship with Lady Bird Johnson was the base of her interest in the Wildflower Center, to which she made a most generous gift.
After her marriage to Arnold Schwartz, Marie was deeply involved in a number of philanthropic projects, ranging from the arts to medicine.
She has served on the boards of many organizations, including the Memorial Sloan Kettering Cancer Center.
An interesting footnote: Four of the 72 Greenwich Pen Women members reside on Dempsey Lane, a short street with only six houses. In addition to its oldest member, the branch's youngest member and its current president have addresses on the road. A confluence of talent!
---
Boca Raton Branch Hosts Spring Festival
As part of the branch's ongoing outreach program in the community, the Boca Raton Spring Family Festival in March featured a juried art show. Prizes went to: Rhoda Hollander, first place; Barb Capeletti, second place; Pat Wilson, third place; and Mary Unterbrink, honorable mention.
The highlight of the festival was Sheila Firestone's original composition, "Peace Patch Ballet." One of the young participants from the neighborhood was thrilled to be included.
Poets Vera Ripp Hirschhorn, Carol White, Alexandra Goodwin, and Marlene Klotz presented a workshop at the Parkland City Library.
---
Santa Clara County Awards Four Scholarships
In April, the Santa Clara County Branch honored four talented young women with annual scholarship awards. The quality of the applicants was outstanding and these young women stood out in their field of study with their artistic creativity and academic goals, as well as community service.
Nancy Bloomer Deussen, music chair and a music composer, presented Jeanna Sheen with the music award for her concert piano performance. Jeanna is a senior from Saratoga High School and is considering attending University of California San Diego, where she will double major in biology and music. The audience had a chance to hear her play a movement from a Mozart piano sonata.
Patricia Dennis, art chair, author, and photographer, presented two awards. The Felicia Pollock Memorial award, donated by Felicia's husband, Michael Pollock, went to Isabella Baynard, a Los Altos High School senior with a chosen field of fashion design. She has already started her own business and aspires to continue giving back through outreach programs.
The Santa Clara County Branch art award's recipient was Elena Jorgensen, an Abraham Lincoln High School senior. Elena's talent with different art media impressed the judging committee. One piece in particular caught the judges' eye, as it demonstrated the feelings of a young woman starting out on her own. Elena has numerous art pieces on display at different locations and is looking forward to pursuing a graphic arts career in college.
Luanna Leisure, scholarship chair and a published author, gave the letters award to Rachel Hildebrand. Rachel kept the audience spellbound as she read an excerpt from her story, titled "Power." Her goal is to become a pediatric oncologist, which entails spending 14 years in undergraduate school, medical school, and residencies. Next year, she will major in cell development and biology.
Membership Chair Susan Zerweck gave a brief message about NLAPW and presented the young ladies with student membership applications to join the Pen Women.
The Santa Clara County Branch is honored to help these young ladies with their educational goals and hopes to see them in the membership ranks soon.
---
Connecticut Pioneer Showcases Art, Letters, Music
Members of the Connecticut Pioneer Branch presented their work in "Spring Colors," an exhibition hosted at the Gertrude White Gallery of the Greenwich YWCA, from May 1 to June 15. The reception included readings by letters members and performances by music members, along with the presentation of Junior Art Awards to promising creative young women.
The recipient of the Junior Letters Award was Phoebe Jacoby, who exhibited two of her works. Phoebe is an advance-placement studio art student of Sherry Tamalonis at Greenwich Academy, where her art has been featured in its national award-winning literary magazine, Daedalus. She also has studied art at the Silvermine Art School and at Stamford's adult education classes under Carol Dixon.
Elizabeth Dunn, winner of the Junior Letters Award, is a junior editor of Daedalus. She has published poems in several publications, and has earned national recognition from the Scholastic Art and Writing Awards program, and will receive its gold medal at Carnegie Hall in June. She read her poem, "Homer, Alexander," at the reception.
Both winners of the Junior Music Award study music with music co-chair Patti Preiss Harris. A 17-year-old junior at Darien High School, Daphne Gray is a gifted performer of classical piano music. She performed "Reverie" by Debussy.
Caroline Lacy, 18, a senior at Darien High, was accepted into the Peabody Conservatory at Johns Hopkins University. She sang "Du Ring en Meinem Finger" by Schumann.
Among the area artists exhibiting their art work were Lucie Anderes, Vivian Bergenthal, Carol Dixon, Mary Fike Dowling, Grace Le Vander, Kathryn Shorts, Marcia Penny Preston, and Katia Streiff. Letters members Regina Krummel, Polly Memhard, Elvira Sisca, and Missy Wey read their prose and poetry. Music members Patti Preiss-Harris and Thalia Cokkinos performed.
The reception and exhibition were open to the public, and a large crowd attended.
---
Scottsdale Supports Community College Student
By Kiki Swanson, Branch President
For eight years, the Scottsdale Branch, Arizona, has awarded a scholarship to an outstanding female Scottsdale Community College student, rotating among arts, letters, and music. The college sponsors the Vortex competition of art, essays, plays, poetry, scripts, short stories, and composition as a tribute to the spiraling energy evident in student creativity. Judges are faculty members, and President Jan Gehler endorses the publication of an anthology of the winning work.
This year, our NLAPW honoree is Bonnie Lewis, and she presented the program at our May meeting. She identified herself by several careers, in addition to being the wife of a physician and mother of three sons.
Our members enjoyed her youthful enthusiasm and the pieces of art she brought to our meeting; we were astounded when she referred to her retirement age as the start of her college painting classes. Her winning painting, titled "Walking to Nowhere," reflects her mature understanding of the problems of refugees and homelessness, and it appears on the cover of the anthology.
Yes, our members were inspired by Bonnie in her Vortex, her whirlwind of creative energy. We promised each other to renew our commitment as professional women in leadership in arts, letters, and music. We continue to grow by listening to each other and sharing our stories!
---
Diamond State Encourages Young Writers
Every April, the nonprofit Alliance for Young Artists & Writers announces the national medal recipients of the Scholastic Art & Writing Awards, the nation's longest-running and most prestigious recognition program for creative teens in grades 7–12. The program had been dormant in Delaware until 2011, when Diamond State Branch members JoAnn Balingit, former Delaware poet laureate; and Betsy Greer, visual arts member, worked with the Delaware Division of the Arts to revive the competition in the state.
This year, the Delaware Writing Region awarded 30 Gold Keys to 28 writers. These Gold Key works are entered in a national competition, juried by nationally known writers. Fewer than 1 percent of works submitted to national receive a gold medal. Four of the Delaware young writers received this prestigious recognition this year. The gold medalists and their teachers are invited to a recognition event at Carnegie Hall in New York City.
State affiliate organizations like the Diamond State Branch awarded a total of 19,000 "Gold Keys" or first-place awards to participants. Across the country, some 2,500 teen artists and writers received scholastic medals, including about 850 young writers. They walk in the footsteps of program alumni such as Andy Warhol, Truman Capote, Joyce Carol Oates, Sylvia Plath, Ken Burns, Stephen King, Luis Jiménez, John Updike, and Lena Dunham.
If your branch would like to learn about sponsoring students in your area and become an affiliate for this wonderful contest, branch members are happy to talk to you!
---
Central New York Members Share Talents at Workshop
The Central New York Branch presented a three-hour workshop, "Writing Creatively," at Pen Arts Building and Art Museum, in Washington, D.C., in May.
A small but highly engaged group of participants explored writing techniques. Experienced and novice writers were guided by instructor Nancy Avery Dafoe and CNY Branch members Sheila M. Byrnes, Mary Gardner, Judith McGinn, and Bobbie Dumas Panek. The aim of the workshop was to help writers at every level stretch their writers' muscles and leap into employing less familiar techniques in order to discover.
"Exposing writers to techniques such as catachresis and metonymy or synecdoche and chiasmus causes us to perceive and create in original pen strokes; this exploration often surprises even the most advanced writers," said Dafoe, an author of six published books and numerous articles and poetry. Dafoe is also the recipient of the William Faulkner/Wisdom 2016 Creative Writing award for poetry.
With the focus on writers, participants enjoyed sharing their explorations in multiple genres with the entire group. Each of the CNY Branch Pen Women read from their own published work and modeled specific techniques, offering comment on how the technique was manifested in the work.
Following a short break after the workshop, the CNY Branch hosted a reading for the public. The afternoon and evening events at Pen Arts were highly successful.
"We would love to do this again," said Dumas Panek, speaking for the branch members. "It was very meaningful for the participants. You could see their excitement in the learning and sharing processes."
---
MORE BRANCH NEWS:
Cape Code Branch announces winners of the final Haiku Contest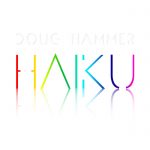 Congratulations to the winers of the recent Haiku contest of the Cape Cod, MA, Branch! This is the 11th and final year the Cape Cod women have sponsored this contest, which raises funds to support youth attending a summer writing course at Cape Cod Writers Center each August. Appreciation to the contest judge, Anna Di Bella, past national president.
Third Prize: Marguena Daniels of Philadelphia, PA
shifting winds
sudden squall passes over
shaft of sunlight
Second Prize: Lucia Kiersch Haase of Spring Valley, IL
one robin singing
on the cherry blossom branch
springtime duet
First Prize: Christina Laurie of West Falmouth, MA
hushed marsh
dawn colors the mist
wood thrush song
Student Recognition Award: Kaiden Holt, 8, East Falmouth, MA
Flowers are blooming
Green, white, bright, and beautiful
Springtime is pretty.
---
Earlier news from NLAPW Branches:
Spring in NorCal! – Modesto, CA branch news
On Saturday, April 22nd, the Modesto, CA branch hosted the spring NorCal NLAPW meeting at the Carnegie Arts Center in Turlock. In addition to a catered luncheon and regular business meeting, attendees were able to view the spring art show at the Carnegie and enjoy a program which featured the winners of our recent NorCal letters contest.
Eight contest winners attended, read their poetry and prose aloud to the audience, and received award certificates. A silent auction was held to raise money for the Shirley Elke fund which supports NorCal NLAPW art, letters, and music competitions.
On Sunday, May 21st, members of our local branch attended a reception for student winners of the Aileen Jaffa poetry contest. This contest, which is co-sponsored by the Modesto branch of NLAPW and the Modesto Stanislaus Poetry Center, is open to all students in grades K-12 who live or go to school in Stanislaus County. The students were invited to read their winning poetry aloud to the audience and received awards and certificates.
Submitted by Nancy Haskett, Modesto Branch President
---
Central New York Branch Hosts Writing Workshop, Readings at Pen Arts, May 8, 2017
By Rachael Ikins, Central New York Branch
For 90 years, the Central New York Branch members turned "no" into "yes." Through their arts, they deepened understanding of women's issues. In celebration of their milestone, they created an illustrated anthology of members' work, titled "In the Company of Women."
Thanks to National President Virginia Franklin Campbell, the book inspired the idea for a multi-genre workshop at Pen Arts Building and Art Museum in Washington, D.C.
On May 8, CNY Branch member Nancy A. Dafoe — poet, writer, educator, and Faulkner Poetry Contest winner — will lead a workshop titled "Writing Creatively" from 1 to 4 p.m. The workshop will guide participants through a variety of poetic and literary techniques to allow for richer writing and reading experiences. Dafoe will be joined in teaching the workshop by award-winning poets and writers.
Branch member readings will follow from 5 to 7 p.m. They will include Sheila Byrnes' journey through breast cancer, Bobbie Panek's warrior poem, Mary Gardner's forward, Nancy Dafoe's short fiction, and Janet Fagal's poem/photo featuring our oldest member. Audience members will be invited to read their own poetry.
Seating is limited for the workshop. Donations (suggested $50) will be accepted at the door and will secure participants a copy of "In The Company of Women." The evening reading is free.
---
The Pen Woman magazine is free to members. Extra copies available for purchase here.