Patricia Daly-Lipe
Washington, D.C. Branch
"Myth, Magic and Metaphor," Oil
www.patricialipe.com/paintings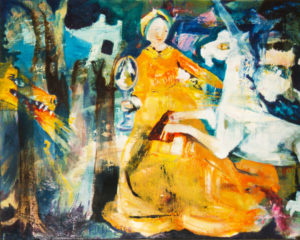 Patricia Daly-Lipe's paintings come from the heart. Most are unplanned and develop as the paint goes on the canvas. Such was the case with this painting. It was a result of wiping leftover paint with a palette knife onto an empty canvas.  The Princess and the unicorn found their ways in the paint. Daly-Lipe then added the dragon. This painting represents good and evil with the Princess asking the unicorn (who represents creativity/good) to look in the mirror so he won't see the dragon (who represents evil).