2016 Biennial Installation of Officers
The new national board members, left to right, Jane Maclean, fifth vice president; Sheila Byrnes, second vice president; Ronnie Miller, fourth vice president; Virginia Franklin Campbell, president; Lorna Jean Hagstrom, first vice president; Maureen Sappéy, third vice president; Evelyn Wofford, treasurer.
The NLAPW business meeting took place Friday morning. The U.S. Army Military District of Washington Armed Forces Color Guard presented and retired the colors at the beginning of the event.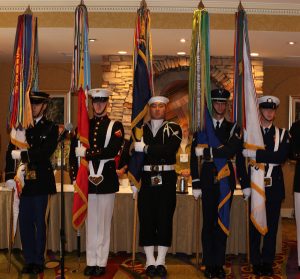 2016 Biennial Art Awards Gallery
Were you there? Find yourself and/or your friends:
(Photos by Judy Bingman, Santa Clara County Branch, CA)